15 minute cities, ABC Folks, assisted suicide, Banking, Blackouts, Cancel Culture, CCP, censorship, Climate Change.!, Cloward & Piven, Collapse, Confiscation!, Conspiracy Facts!, Demon-Craps, Depopulation, Disaster, Disinformation, DoomsDay, Dumb Ass!, Elites, Euthanasia, Exposed, Fact-Checkers, Freedom!, Globalist, God, Here@Home, High As Hell!, I Told Yo Ass!, lawlessness, Lefty Losers, Lets Go Brandon, LMFAO!, Lying Ass, Mad Man, Maui, Mind Control, New World Order, Plandemic, political, Power Grid, Prepping, Proof, Protest, Red Pill, Right In Your Face!, Self Defense, Terrorism, The Great Reset!, Total Control Of All Things, Trans-nanagains, War, WEF, Whistleblower, Wildfires, Woke Mob, World News, World War, Wow!, WTF!
BY REBECCA BOONE, HEATHER HOLLINGSWORTH, CLAUDIA LAUER AND CHRISTOPHER L. KELLERUpdated 4:01 PM EDT, August 24, 2023
As flames tore through a West Maui neighborhood, car after car of fleeing residents headed for the only paved road out of town in a desperate race for safety.
And car after car was turned back toward the rapidly spreading wildfire by a barricade blocking access to Highway 30.
One family swerved around the barricade and was safe in a nearby town 48 minutes later, another drove their four-wheel-drive car down a dirt road to escape. One man took a dirt road uphill, climbing above the fire and watching as Lahaina burned. He later picked his way through the flames, smoke and rubble to pull survivors to safety.
But dozens of others found themselves caught in a hellscape, their cars jammed together on a narrow road, surrounded by flames on three sides and the rocky ocean waves on the fourth. Some died in their cars, while others tried to run for safety.
MORE WILDFIRES COVERAGE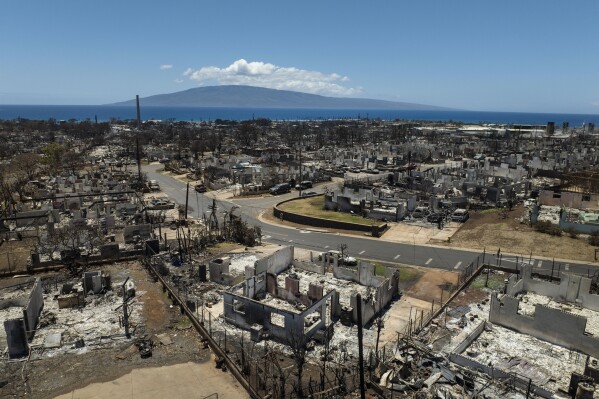 Maui fires renew centuries-old tensions over water rights. The streams are sacred to Hawaiians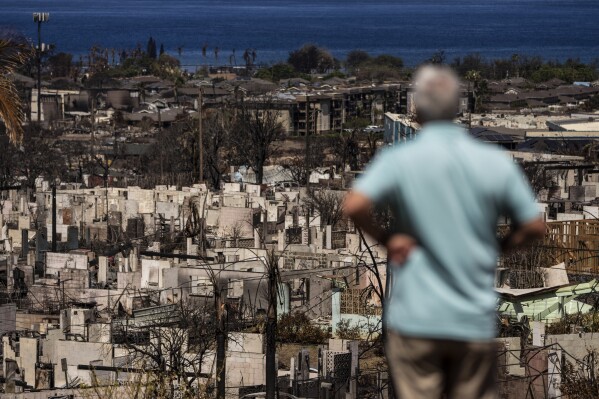 Hawaii officials urge families of people missing after deadly fires to give DNA samples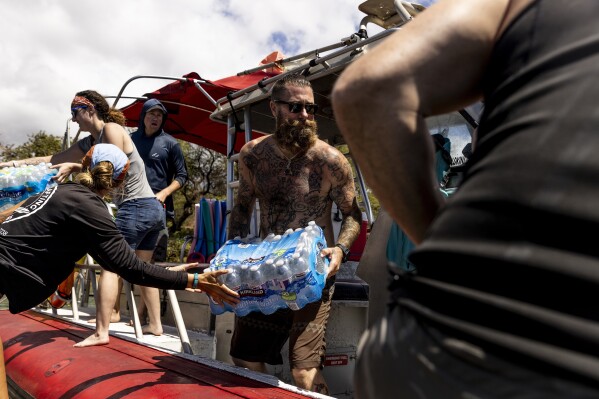 Maui water is unsafe even with filters, one of the lessons learned from fires in California
"I could see from the bypass that people were stuck on the balconies, so I went down and checked it out," said Kekoa Lansford, who made several trips into town to look for survivors. What he found was horrible, Lansford said, with dead bodies and flames like a hellish movie scene. "And I could see that people were on fire, that the fire was just being stoked by the wind, and being pushed toward the homes."
The road closures — some because of the fire, some because of downed power lines — contributed to making historic Lahaina the site of the deadliest U.S. wildfire in more than a century. But there were many problems that day, and in some ways the disaster began long before the fires started.
A flash drought in the region provided plenty of kindling, and Hurricane Dora brought strong winds to Maui as it passed roughly 500 miles (800 kilometers) south of the Hawaii island chain. Those winds downed at least 30 power poles in West Maui, and Hawaiian Electric had no procedure in place for turning off the grid — a common practice in other fire-prone states. Video shot by a Lahaina resident shows a downed powerline setting dry grasses alight, possibly revealing the start of the larger fire.
More Here:
https://apnews.com/article/hawaii-fires-timeline-maui-lahaina-road-block-c8522222f6de587bd14b2da0020c40e9
CivilianTalk With Mr.Pi
This is a very informative, insightful, realistic and unbiased channel. That is open to all topics and suggestion on how to make our society a better and equally fare place for everyone. without fear or forcing people to agree with ideals that they dont agree with. (Parental discretion advised)
Governmental Stupidity. Ep.373
what's good #CivilianTalk family! We are back with another fantastic episode of Truth or Fraud. Today we have alot of really interesting topics and developments coming straight at you! We are moving Closer and closer to the end of a great thing. We call it America! If we dont wake up today, We may not have a America to wake up to tomorrow!
Thanks for supporting the show and Remember it's our show! #CivilianTalk Waking Up America!
—
Send in a voice message: https://podcasters.spotify.com/pod/show/civilian-talk-with-mrpi/message
Search Results placeholder
---