15 minute cities, ABC Folks, About Time!, assisted suicide, Bioweapons, Cancel Culture, CCP, censorship, Cloward & Piven, Collapse, Conspiracy Facts!, covid, Demon-Craps, Depopulation, Didn't Know That!, Digital ID., Disaster, Disinformation, DoomsDay, Dumb Ass!, Elites, Exposed, Fact-Checkers, Freedom!, Globalist, God, Here@Home, I Told Yo Ass!, Kidnapping, lawlessness, Lefty Losers, Lets Go Brandon, Mad Man, Mad Science, Matrix, Mind Control, NATO, New World Order, Plandemic, Poison, political, Prepping, Proof, Protest, Red Pill, Right In Your Face!, RINO's, Satanism, Schools, Self Defense, Slave Camps, Sleepy Joe, SLOW J Simpson, Soylent Green, Terrorism, The Great Reset!, Total Control Of All Things, Vaxx Passports, Virtual Reality, War, WEF, Whistleblower, WHO, Woke Mob, World News, World War, Wow!, WTF!
22 Jul, 2023 04:15
US creates permanent pandemic agency
The office will take over the duties of the White House Covid-19 response team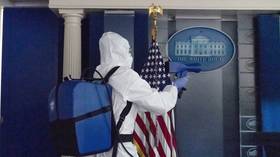 FILE PHOTO © AP / Alex Brandon
The US government has launched a new agency to prepare for pandemics and other "biological threats," with President Joe Biden tapping a retired Air Force general to spearhead the project.
The White House announced the creation of the Office of Pandemic Preparedness and Response Policy (OPPR) on Friday. The agency will be tasked with devising a response to public health crises, coordinating scientific research and medical efforts against pandemics, and providing regular reports to Congress.
"This will be a permanent office in the Executive Office of the President charged with leading, coordinating, and implementing actions related to preparedness for, and response to, known and unknown biological threats or pathogens," the White House said in a press release. 
The new office will be headed up by Retired Air Force Major General Paul Friedrichs, who currently serves as a special assistant to President Joe Biden and the Senior Director for Global Health Security and Biodefense at the White House National Security Council. Friedrichs previously worked as a joint staff surgeon at the Pentagon, where he also advised the military's Covid-19 task force.
The OPPR will formally come into existence on August 7, after which Friedrichs will begin assembling a team. His responsibilities will include ensuring the Strategic National Stockpile is well-equipped with medical supplies, and working with Congress to procure funding for US preparedness efforts, according to the New York Times.
In addition to crafting a government response to future pandemics, the agency will confer with industry, the scientific community and the Department of Health and Human Services to develop the "next generation of medical countermeasures," including vaccines. Its work will focus on Covid-19, monkeypox, polio, avian and human influenza, and RSV, among other pathogens.
Taking over the role of the White House's Covid-19 response team, which was shuttered in May, the office was created under a sweeping government spending package enacted in late 2022. It will be required to submit a "preparedness review" to lawmakers every two years, and a separate "outlook report" every five years.
More Here:
https://www.rt.com/news/580099-us-permanent-pandemic-office/
CivilianTalk With Mr.Pi
This is a very informative, insightful, realistic and unbiased channel. That is open to all topics and suggestion on how to make our society a better and equally fare place for everyone. without fear or forcing people to agree with ideals that they dont agree with. (Parental discretion advised)
Governmental Stupidity. Ep.373
what's good #CivilianTalk family! We are back with another fantastic episode of Truth or Fraud. Today we have alot of really interesting topics and developments coming straight at you! We are moving Closer and closer to the end of a great thing. We call it America! If we dont wake up today, We may not have a America to wake up to tomorrow!
Thanks for supporting the show and Remember it's our show! #CivilianTalk Waking Up America!
—
Send in a voice message: https://podcasters.spotify.com/pod/show/civilian-talk-with-mrpi/message
Search Results placeholder
---