assisted suicide, Banking, CCP, Collapse, Confiscation!, Demon-Craps, Depopulation, Disaster, Disinformation, DoomsDay, Dumb Ass!, Elites, Fact-Checkers, Globalist, I Told Yo Ass!, lawlessness, Lefty Losers, Lets Go Brandon, Matrix, Me Too Movement, NATO, New World Order, political, Prepping, Red Pill, Right In Your Face!, SLOW J Simpson, The Great Reset!, Virtue Signaling, WEF, Woke Mob, World News, World War, Wow!
Berlin left unprotected as air defense systems sent to Ukraine – arms maker
The Skynex and Skyranger air defense systems were intended to defend the German capital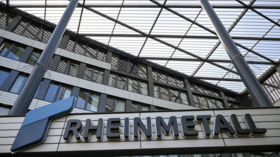 © AFP / Ina Fassbender
Germany is sending two air defense systems to Kiev in a move that may leave Berlin unprotected, Armin Papperger, the CEO of leading German military contractor Rheinmetall, said in an interview with the Pioneer podcast on Tuesday.
The two systems in question, Skynex and Skyranger, were commissioned by the German government to protect the airspace over Berlin, the arms manufacturer revealed. The two units cost around €200 million ($212 million) and will be sent to Kiev within the year.
"We had two whole systems that could certainly have defended Berlin," Papperger said, as quoted by RIA Novosti. According to the CEO, four of the systems would be enough to protect Berlin, but now their number will be inadequate.
On Saturday, thousands of protesters rallied in the German capital, calling for Chancellor Olaf Scholz to "stop the escalation in weapons deliveries." Read more Pentagon says it struggles to track US weapons in Ukraine
Germany also pledged Western-made tanks to Ukraine in late January, promising 14 of its Leopard 2 tanks and pledging to work with partners to create two armored battalions containing 30 tanks each. However, Germany's EU and NATO allies have been reluctant to deliver.
Similarly to Germany undermining its own protection for the sake of solidarity with Ukraine, Denmark opted in January to send its 19 French-made Caesar howitzer artillery systems to Kiev, compromising its own defensive capabilities. The artillery systems had been a key component of Denmark's plan to field a heavy infantry brigade.
Officials in some NATO nations have cautioned that the constant supply of arms and ammunition to Ukraine on such a massive scale would eventually come at a cost to their own defensive capabilities.
More Here:
https://www.rt.com/news/572226-berlin-air-defense-unprotected/
---