ABC Folks, About Time!, Cancel Culture, CCP, censorship, Collapse, Dumb Ass!, Elites, Fake News, Freedom!, Globalist, Here@Home, lawlessness, Lets Go Brandon, Matrix, Me Too Movement, Orwellian 1984, political, Red Pill, Satanism, Virtue Signaling, War, Whistleblower, Woke Mob, Wow!
Army Suspends Soldier Who Mocked Jill Biden — Ignores Woke Soldier Questioning Loyalty to U.S. After Roe Reversal
Infowars.com July 10th 2022, 11:15 am
A U.S. Army three-star general had his military contract suspended and is now under investigation over a tweet sent to Jill Biden mocking her and the woke left following the Supreme Court's overturning of Roe v Wade.
"For nearly 50 years, women have had the right to make our own decisions about our bodies. Today, that right was stolen from us," Jill Biden's initial tweet said.
Retired Lt. Gen. Gary Volesky, the Army's former top spokesman, responded on June 24 using his personal Twitter account: "Glad to see you finally know what a woman is."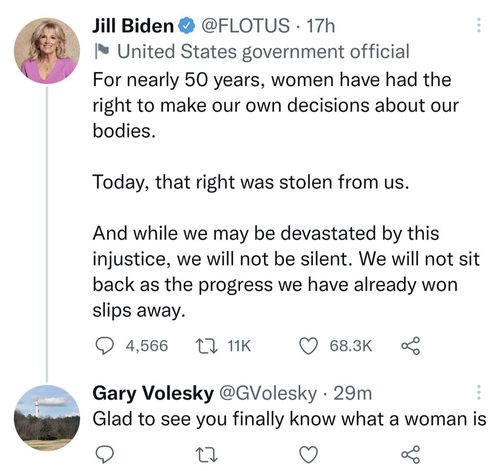 Gen. Volesky, who previously also commanded the Army's 101st Airborne Division, was highlighting the woke left's insane denials of biological realities that's become a hallmark of transgender ideology.
Volesky later deleted his tweet without explanation amid reports he became the subject of an internal investigation.
"A retired three-star general has been suspended from a $92-an-hour contract consulting the Army and is under investigation after posting a tweet that appeared to mock first lady Jill Biden on a hot-button social issue, according to the Army," USA Today reported.
Contrast this report with that of a woke U.S. Army soldier who went viral on TikTok for questioning her loyalty to the United States following the Roe reversal.
"It happened," the soldier said of the Roe reversal. "I just extended my contract to continue serving this country a week ago. How am I supposed to swear to support and defend the Constitution and a country that treats its women like second-class citizens?"
More Here:
https://www.infowars.com/posts/army-suspends-soldier-who-mocked-jill-biden-ignores-woke-soldier-questioning-loyalty-to-u-s-after-roe-reversal/
---