2A., ABC Folks, Abortion, About Time!, Cancel Culture, CCP, censorship, Collapse, Disinformation, Dumb Ass!, Elites, Globalist, Here@Home, Hollywood, lawlessness, Lets Go Brandon, LMFAO!, Matrix, Orwellian 1984, political, Red Pill, Satanism, SCOTUS, War, Whistleblower, Woke Mob, Womens rights, World News, Wow!, WTF!
"Night Of Rage" Flyers Spotted In DC Ahead Of Roe v. Wade Decision
by Zero Hedge June 22nd 2022, 4:38 am
Any day now (likely Thursday), the Supreme Court could publish its final decision on whether or not to overturn Roe v Wade. If the nine Justices overturn the court case, the decision to ban abortions will become a state matter. It would spur demonstrations as disturbing flyers have already begun appearing across Washington D.C., warning about riots if the case is overturned. 
National Reviews' Ramesh Ponnuru tweeted a picture of a flyer slapped on the side of what appears to be a concrete base of a light pole on the side of a street in D.C. The flyer reads:
"DC CALL TO ACTION NIGHT OF RAGE … THE NIGHT SCOTUS OVD.CTURNS ROE V. WADE HIT THE STREETS YOU SAID YOU'D RIOT."
It continues: "'TO OUR OPPRESSORS: IF ABORTIONS AREN'T SAFE, YOU'RE NOT EITHER.' JANE'S REVENGE."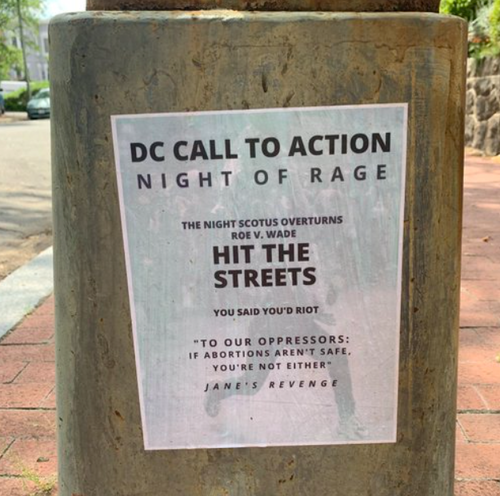 The pro-abortion group "Jane's Revenge" signed the flyer and recently declared "open season" on pro-life groups and crisis pregnancy centers. The radical group has a history of damaging property during protests. They took credit for vandalizing a pregnancy resource center in Des Moines, Iowa, earlier this month, said Michael Snyder via The End of The American Dream blog. 
Increasing threats of social unrest following the upcoming ruling are concerning and follow the arrest of an armed man outside Justice Brett Kavanaugh's home. Demonstrators have been outside the homes of conservative Justices while encircled around the Supreme Court building is a security fence and additional security guards. 
More Here:
https://www.infowars.com/posts/night-of-rage-flyers-spotted-in-dc-ahead-of-roe-v-wade-decision-2/
---