About Time!, Cancel Culture, CCP, CDC, covid, Dumb Ass!, FDA, Globalist, Here@Home, lawlessness, Lets Go Brandon, political, The U.N., Trump, Vaxx Passports, War, World News, WTF!
Leaked Fauci Financials Expose How Millionaire Doctor Profited From Pandemic
Finally, after a handful of organizations tried suing Dr. Anthony Fauci in order to have them released, the good doctor's financials – along with those of his wife, who is the NIH's top bioethicist – have been disclosed in detail. And they were leaked by the same Senator who Fauci called a "moron" last week during a hot-mic moment.
We already knew that Dr. Fauci is the highest-paid federal government employee, earning an annual salary of more than $400K. His wife, Christine Grady, earns $176K as Chief of the Department of Bioethics at the NIH.
The records, published by Republican Roger Marshall, himself a doctor and also the junior US senator from Kansas, showed that the Faucis' have a combined net worth of more than $10MM.
As the Daily Mail explains, Fauci, 80, has led the National Institute of Allergy and Infectious Diseases since 1984 and, if he continues until the end of Biden's term in 2024, will have made roughly $2.5MM as the president's chief medical advisor. When he retires, Fauci's pension will be the largest in US history, exceeding $350,000 per year.
As a reminder, Dr. Fauci lied to Congress yet again by insisting that his financials were public, when they very much weren't (before being leaked by the Senator from Kansas, that is).
While the doctor has insisted he hasn't profited from the pandemic, his paperwork showed that he and his wife were paid $14,000 to "virtually" attend a series of galas directly related to his position as the nation's de facto COVID czar.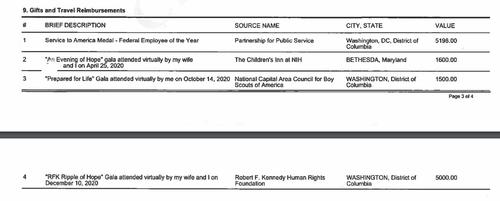 Perhaps the most entertaining disclosure from Dr. Fauci's financials is the revelation that the couple owns a restaurant in tony San Francisco. It's called Jackson Fillmore Trattoria. Unfortunately for them, the restaurant didn't make any money last year.
More Here:
https://www.infowars.com/posts/leaked-fauci-financials-expose-how-millionaire-doctor-profited-from-pandemic/
---